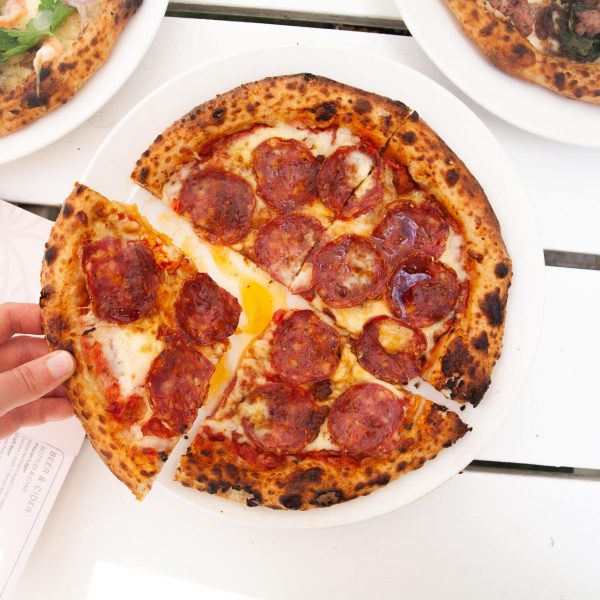 $18 pizzas
From 5pm
Happy Hour 4pm – 6pm
$12 Aperol spritz, $15 espresso martinis
Live Music 6pm – 9pm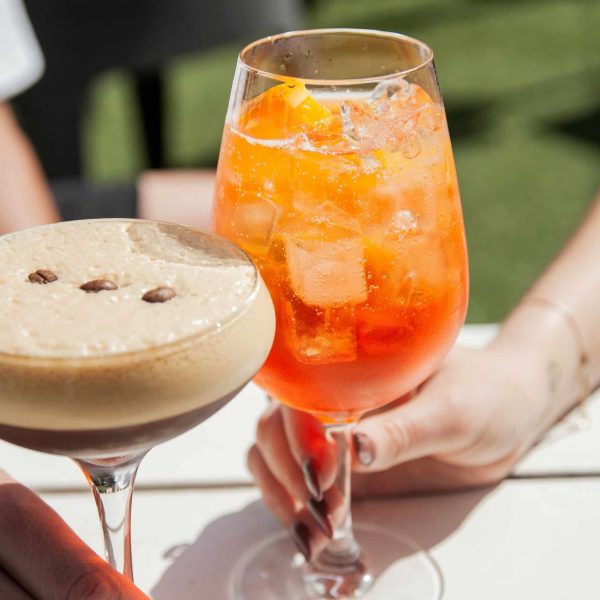 Happy Hour 4pm – 6pm
$12 Aperol spritz, $15 espresso martinis
Beach Volleyball 6pm - 9pm
Live Music 6pm - 9pm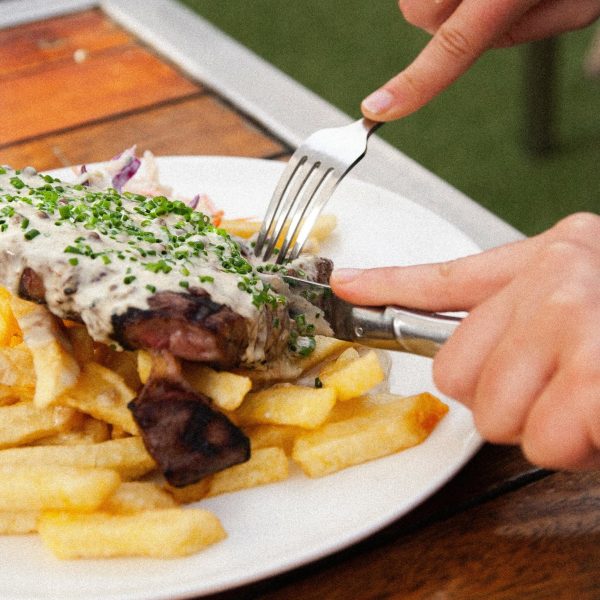 Steak Night
From 5pm
$28 250g Flat Iron
Happy Hour 4pm – 6pm
$12 Aperol spritz, $15 espresso martinis
Beach Volleyball 6pm - 9pm 
Live Music 6pm - 9pm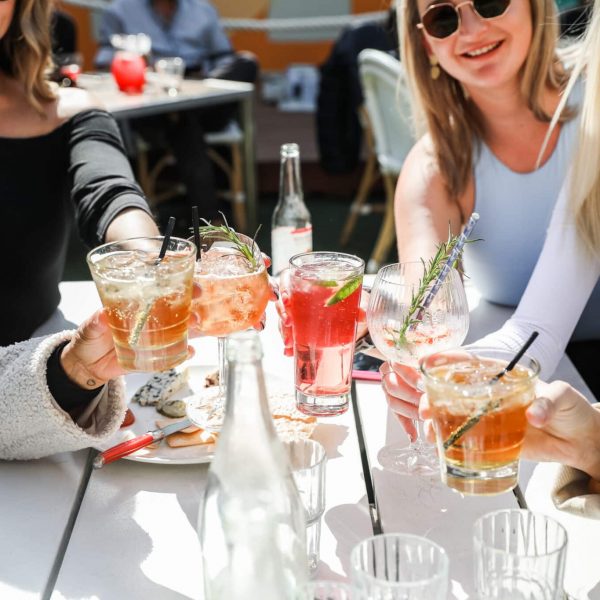 Happy Hour 4pm – 6pm
$12 Aperol spritz, $15 espresso martinis
Beach Volleyball 6pm - 9pm 
Live Music 6pm - 9pm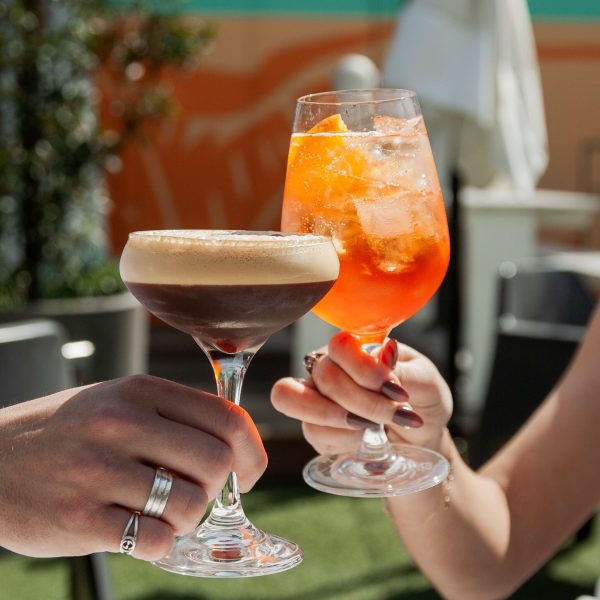 Happy Hour 4pm – 6pm
$12 Aperol spritz, $15 espresso martinis
Live Music 7pm - 10pm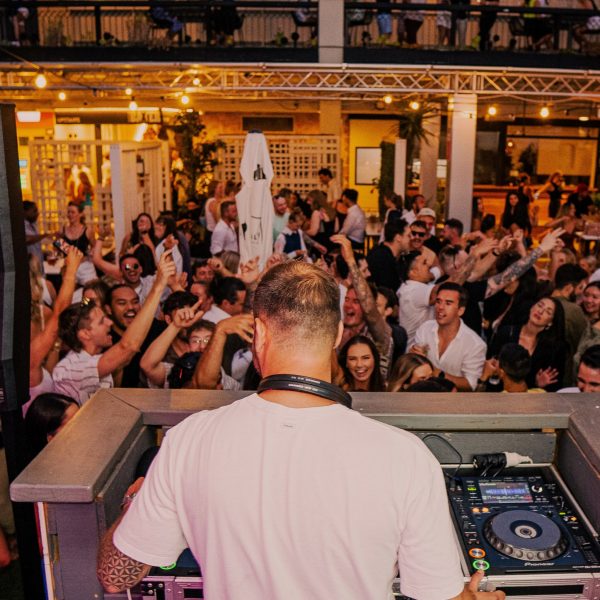 Live Music
1pm - 7:30pm
Live DJ
8pm - 11pm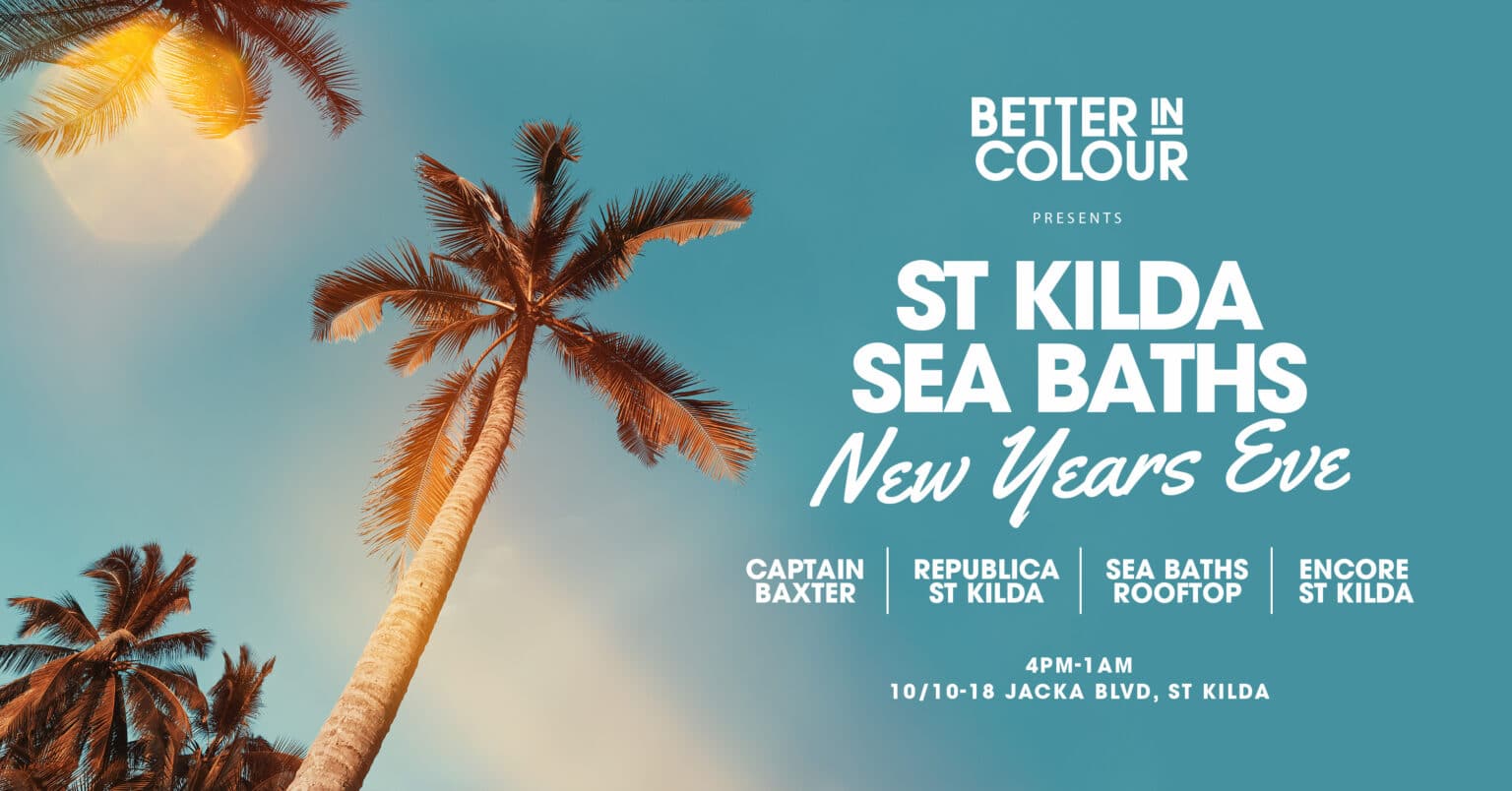 BETTER IN COLOUR PRESENTS NEW YEAR'S EVE 2023
Witness the final sunset and fireworks display of 2023 at Melbourne's highly acclaimed open-air "Sunset Experience," set across four magnificent venues with breathtaking views of the beachside and oceanfront. It's safe to say this will be the best New Year's countdown in years!
Entertainment: 30+ DJs across all four rooms
Genres: RNB | HOUSE | MINIMAL | PARTY
GENERAL ADMISSION
Early Bird Release $85+BF
1st Release Tickets $115+BF
2nd Release Tickets $145+BF
3rd Release Tickets $175+BF
Includes 2 hours of complimentary basic drinks from 4-6 pm in Captain Baxter & Republica with canapés + early rooftop Access
ROOFTOP VIP BOOTHS AVAILABLE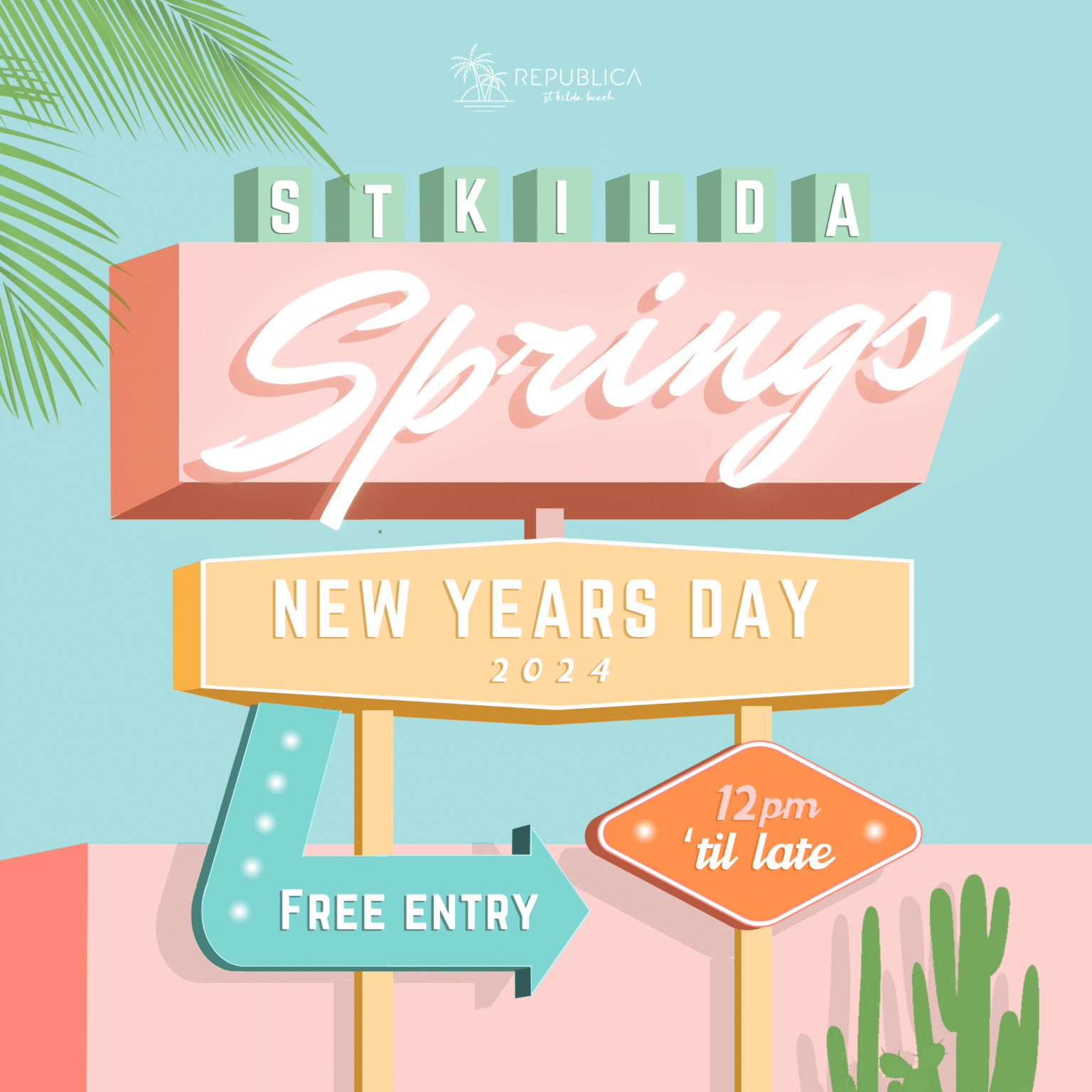 JAN 1ST 2024 12PM
FREE ENTRY
New Years Day 2024, we're travelling to
St Kilda Springs
Leave the Hollywood Hills behind and arrive at our beach-side oasis, open for one day only…
Don't spend the first day of the new year recovering from the night before, keep the party going all afternoon by taking a trip to the southern California of Melbourne.  
LIVE MUSIC AND DJS ALL DAY
REPUBLICA X HARD FIZZ WELCOME TO SUMMER PARTY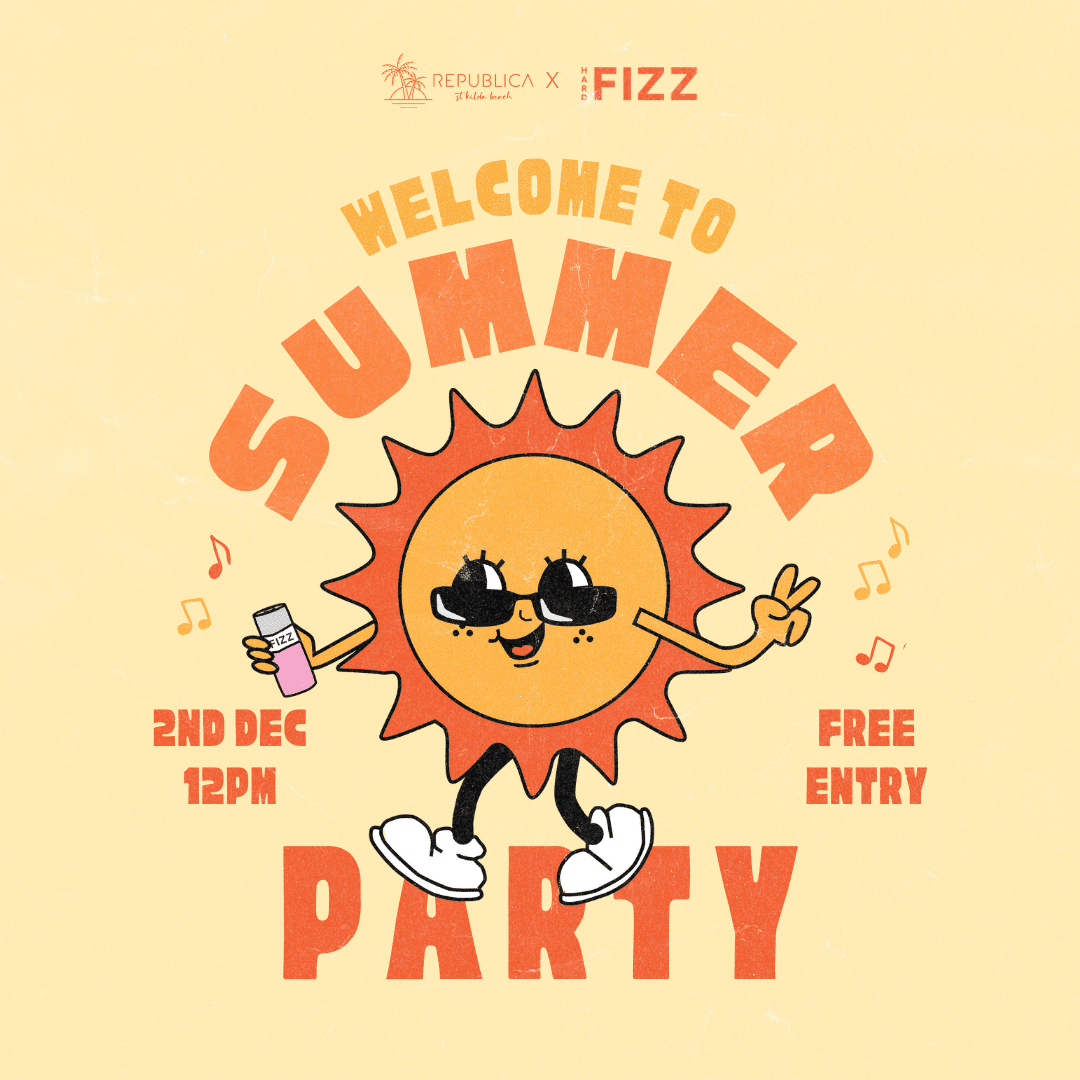 DEC 2ND 12PM – LATE
FREE ENTRY
Gone are the days of scarfs and puffer jackets, SUMMER is hitting Melbourne, and we are throwing a party with Hard Fizz to celebrate! 
After you've slip slopped slapped, why not slide onto our beachside dancefloor? You're not going to want to miss this sizzling afternoon under the sun.
LIVE MUSIC 1pm – 6pm
DJ LINEUP:
6pm – 8pm | Tommy O
8pm – 9:30pm | Tyson O'Brien (Generic) 
9:30pm – 11pm | Zak McCubbin
Hard Fizz are heating things up in the courtyard with a
FREE drink handout from 6pm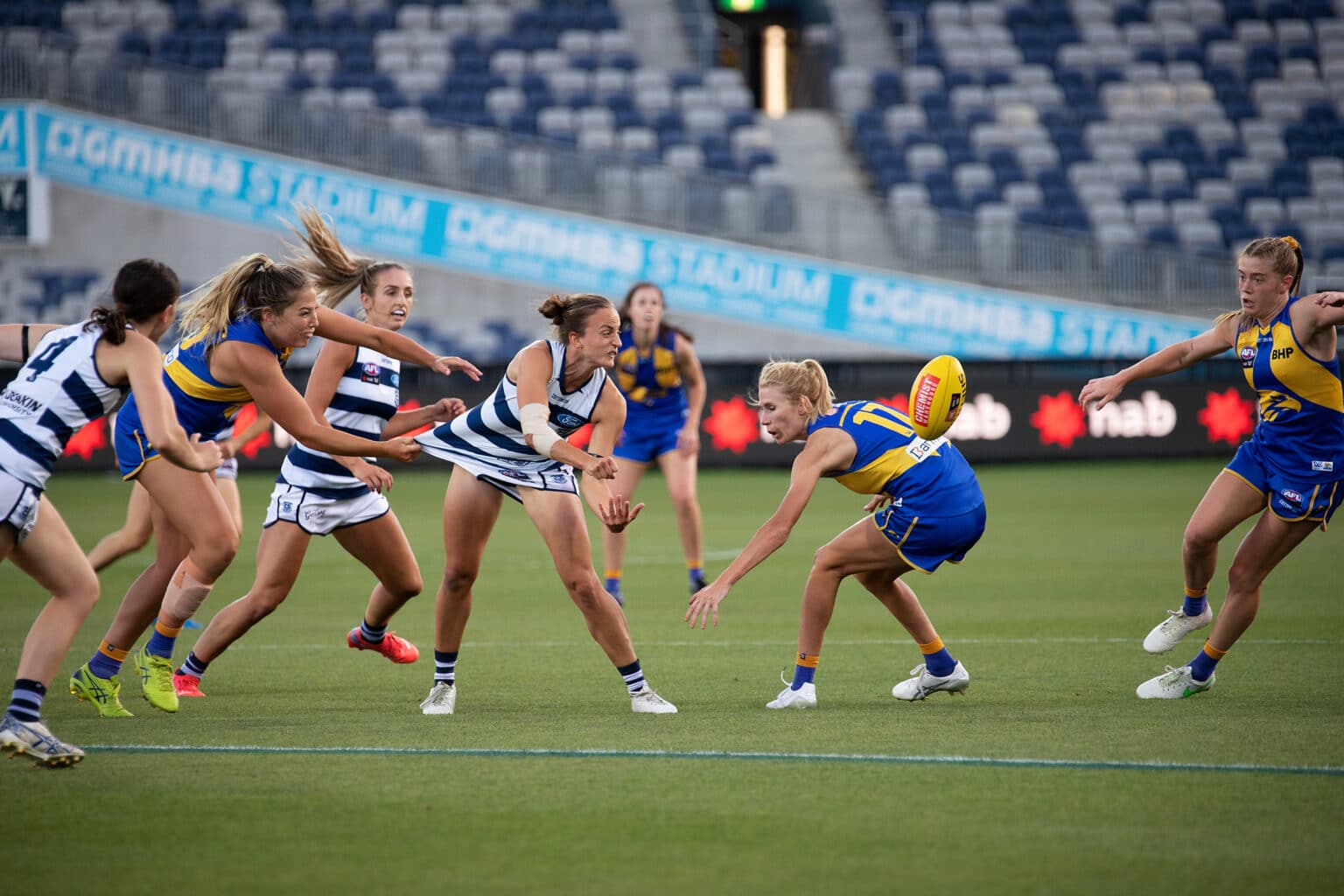 SUNDAY 3RD DEC 12PM
FREE ENTRY
Round up your mates, get your team colours on and support the leaders of Australian female sport in their biggest game of the year!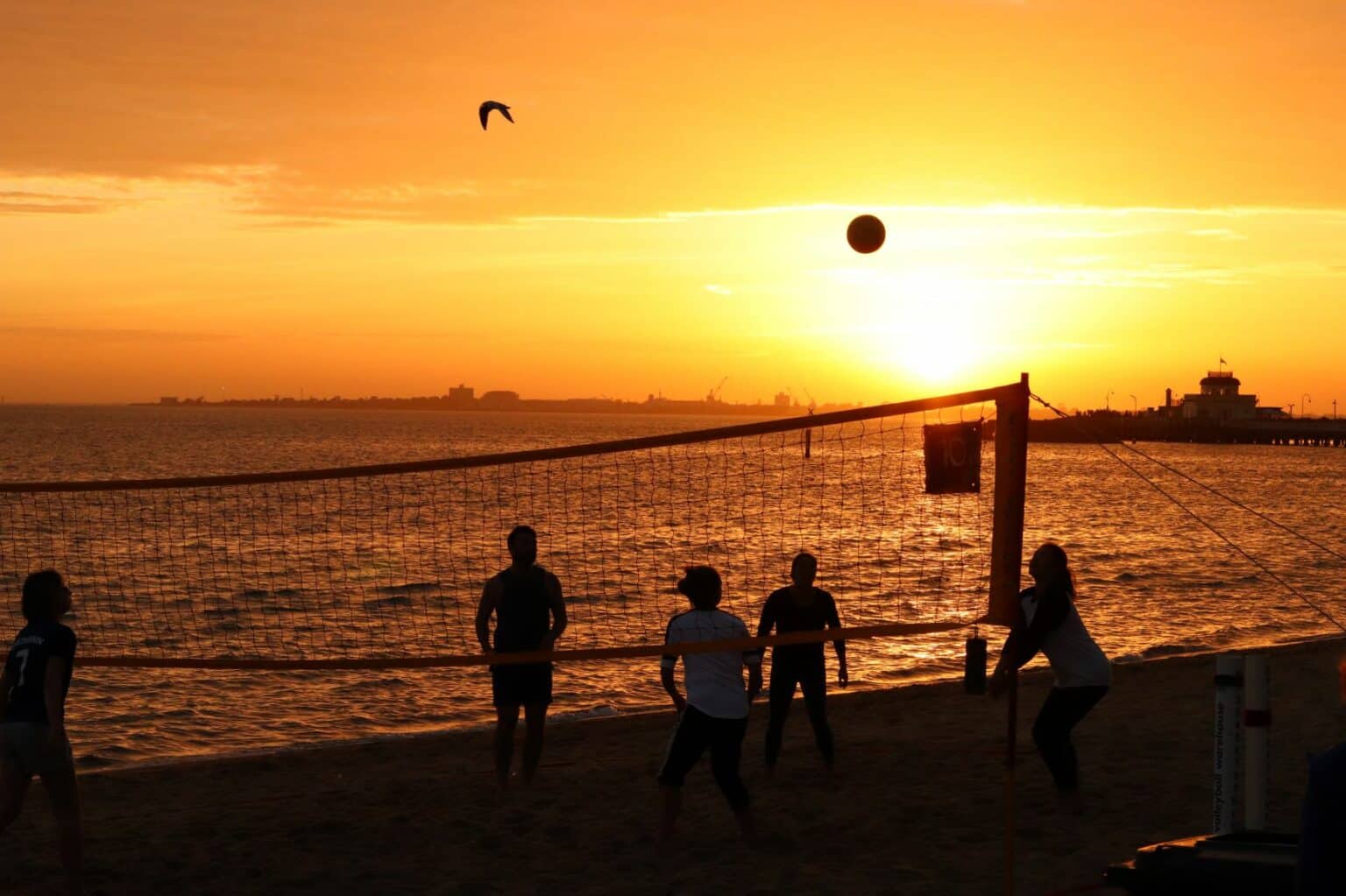 EVERY TUESDAY, WEDNESDAY AND THURSDAY
FROM 6PM ON THE BEACH
Add beachside fun to your weekly routine with VicBeach Volleyball's casual games directly in front of Republica! Work mates, friend groups and individuals are welcome to join the social mixed comp as they smack down in the sand. 
Each team receives a complimentary pizza to share and a Balter beer, wine, or soft drink after the game.
The courtyard gives you front-row seats to Republica's iconic live music stage.
Kick off your booking under the sunshine with some snacks to share & a cold one in hand!
Available Saturdays and Sundays only
START WITH SNACKS
Groups of 8-12 $170
Groups of 13-20 $340

– House-made sourdough focaccia & dips
– Fried jerk chicken ribs
– Chef's selection of pizzas
– Chips
COURTYARD PACKAGE
Groups of 8-12 $290 (10 drinks provided)
Groups of 13-20 $580 (20 drinks provided)
– Chandon Garden Spritz or Balter Cerveza on arrival (please specify in your booking)
– House-made sourdough focaccia & dips
– Fried jerk chicken ribs
– Chef's selection of pizzas
– Chips
Tuesday, 28th November
6pm – 9pm

| Tanya George
Wednesday, 29th November
6pm – 9pm

| Simon Phillips
Thursday, 30th November
6pm – 9pm

| Zak Shepherd
Friday, 1st December
5pm – 8pm

| Niko Seuao


8pm – 11pm

| Sorensen (DJ)
Saturday, 2nd December
Welcome to Summer Party
12:30pm – 2:30pm | Simon Phillips

3pm – 6pm

| Kane Worthy


6pm – 8pm

| Tommy Ohhhhh


8pm – 9:30pm

| Tyson O'Brien


9:30pm – 11pm

| Zak McCubbin
Sunday, 3rd December
1pm – 4pm

  | Ambraya


4:30pm – 7:30pm

| Soltribe
Monday, 4th December
6pm – 9pm

| Zevon Hiltz
Tuesday, 5th December
6pm – 9pm

| Simon Phillips
Wednesday, 6th December
6pm – 9pm

| Stella McGivor
Thursday, 7th December
6pm – 9pm

| Niko Seuao

Friday, 8th December
5pm – 8pm

| Simon Phillips


8pm – 11pm

| Sorensen (DJ)
Saturday, 9th December
1pm – 4pm

| Jamie Macdowell


4:30pm – 7:30pm

| Kane Worthy


8pm – 11pm

| DJ Louis
Sunday, 10th December
1pm – 4pm

  | Simon Phillips


4:30pm – 7:30pm

| Soltribe
Monday, 11th December
6pm – 9pm

| Stella McGivor
Tuesday, 12th December
6pm – 9pm

| Zak Shepherd
Wednesday, 13th December
6pm – 9pm

| Jamie Macdowell
Thursday, 14th December
6pm – 9pm

| Ambraya
Friday, 15th December
5pm – 8pm

| Niko Seuao


8pm – 11pm

| Sorensen (DJ)
Saturday, 16th December

1pm – 4pm

| Madz Got Rich


4:30pm – 7:30pm

| Kane Worthy


8pm – 11pm

| Louis Gilbert (DJ)
Sunday, 17th December
1pm – 4pm

  | Jamie Macdowell


4:30pm – 7:30pm

| Soltribe
Monday, 18th December
6pm – 9pm

| Zak Shepherd
Tuesday, 19th December
6pm – 9pm

| Zevon Hiltz
Wednesday, 20th December
6pm – 9pm

| Jamie Macdowell
Thursday, 21st December
6pm – 9pm

| Niko Seuao
Friday, 22nd December
5pm – 8pm

| Mac Project


8pm – 11pm

| Sorensen (DJ)
Saturday, 23rd December

1pm – 4pm

| Lance Sua + Jerson Trinidad


4:30pm – 7:30pm

| Kane Worthy


8pm – 11pm

| Louis Gilbert (DJ)
Sunday, 24th December
1pm – 4pm

| Jake Roxas


4:30pm – 7:30pm

| Soltribe
Monday, 26th December
6pm – 9pm

| Emile Battour
Wednesday, 27th December
6pm – 9pm

| Jamie Macdowell
Thursday, 28th December
6pm – 9pm

| Zak Shepherd
Friday, 29th December
5pm – 8pm

| Tahlia Eve


8pm – 11pm

| Sorensen (DJ)
Saturday, 30th December

1pm – 4pm

| Madz Got Rich


4:30pm – 7:30pm

| Kane Worthy


8pm – 11pm

| Louis Gilbert (DJ)